|1|
Recently Remixed
Mister Rogers remixed by Symphony of Science's for PBS Digital Studios.
|2|
Recently On Instagram
|3|
Recently Delicious
Pasta with Prosciutto and Asiago Cheese
Ingredients
2 cups uncooked fusilli (corkscrew) pasta
2 tablespoons olive oil
8 oz sliced fresh mushrooms (3 cups)
6 medium green onions cut into ½ inch pieces
1 medium red bell pepper, coarsely chopped (one cup)
1 clove garlic, finely chopped
3 oz sliced prosciutto OR substitute fresh spinach
1 tablespoon fresh basil or ½ teaspoon dried
2 teaspoons chopped fresh oregano or ¼ teaspoon
¼ teaspoon salt
¼ – ½ cup shredded Asiago cheese (to taste)
Directions
Cook and drain pasta as directed.
Meanwhile heat 1ish tablespoons of olive oil over medium heat. Cook veggies. Add more oil if needed. Add prosciutto or spinach once other veggies are soft. Stir in basil, oregano, another tablespoon of olive oil, and pasta. Add more oregano and basil because it will taste better! Serve hot with a generous amount of cheese sprinkled over top. Double the mushrooms and garlic if you are a mushroom and garlic lover like me. Actually, just double everything. Leftovers are awesome.
Recipe adapted from a real cookbook: Better Crocker! From my time off the Internet.
|4|
Recently Feeding
Now that Waylon's eating real food like a champion, I've needed ideas of what to feed the kid.
Two articles I've found really helpful:
French Kids Eat Everything by A Cup Of Jo
&
Feeding Westley by Lady Lee In Process
|5|
Recently Honest Toddler

I cannot stop laughing at this blog and Twitter feed.
Some favorites from the blog:
Playdate Food
&
Potty Training
You will laugh.
|6|
Recently Graduation Month
Yesterday I wrote about graduation speeches.
If you want to read one that is actually memorable, read Anne Lamott's Berkley commencement speech. It's pretty amazing. Here's an excerpt:
"You've graduated. You have nothing left to prove, and besides, it's a fool's game. If you agree to play, you've already lost. It's Charlie Brown and Lucy, with the football. If you keep getting back on the field, they win. There are so many great things to do right now. Write. Sing. Rest. Eat cherries. Register voters. And — oh my God — I nearly forgot the most important thing: refuse to wear uncomfortable pants, even if they make you look really thin. Promise me you'll never wear pants that bind or tug or hurt, pants that have an opinion about how much you've just eaten. The pants may be lying! There is way too much lying and scolding going on politically right now without your pants getting in on the act, too…"
Read the rest—>Let Us Commence
(Thanks Bethany for sharing)
|7|
Recently Reading
Our bookclub book this month.
Anyone else?
|8|
Recently Older
Maru turned 4 last month.
Please tell me you've met Maru.
Watch his compilation video here.
Coolest cat ever.
|9|
Recently June
I'm going to wait until the end of June to talk about this month's goal. It's not a big deal nor is it very top secret, I just think that for my own personal sanity, it should stay quiet until I'm through.
|10|
And finally, our Friday Funny from the Internet
Sir Ian McKellen, on Acting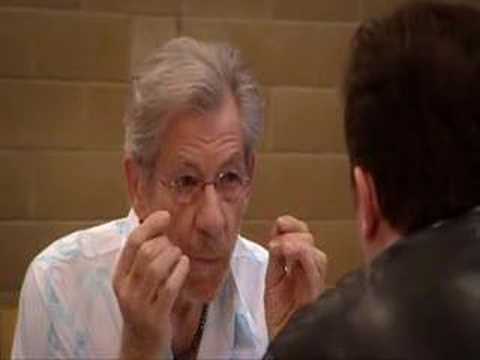 Thanks Jennifer Jo for the link.
***